If you've been on Instagram recently, you've probably seen the #linkinprofile hashtag. I thought LinkInProfile was pretty cool, so  I checked out the site. It's a paid service, of course, and although it isn't that expensive, there's a free alternative you can use. Luckily, there's a pretty simple way to create the same type of page using Pinterest, and you can do it for FREE! I'm going to tell you how.
Here's how LinkInProfile works:
When you use the hashtag on your Instagram post, it automatically publishes the image to your LinkInProfile page and links it to the URL you specify, all for the bargain price of $9.99. Here's the one little thing I don't like about it: it takes your Instagram followers to their website. Call me selfish, but I want my followers to stay on one of my sites.
Here's the free alternative:
I am using a dedicated page on my Pinterest account to collect all of the links for pictures I post on Instagram. You can find the page at http://ig.chalkandapples.com. Go ahead and check it out.
On this page, you can see images I've posted on Instagram, and they are linked to the blog post or product referenced. From there, my Instagram followers can either click through to the link or save it to one of their boards for later. In the spirit of honesty, I'll say that I am not getting a lot of repins on this board, but I am getting lots of views and click-throughs, which is really my goal anyway.
Ready to set yours up? Before you start, you'll need an Instagram account, a Pinterest account, and an account on IFTTT. (It's free!)
Set up your IFTTT recipe:
If you're new to IFTTT (which stands for If This, Then That), you should know that it works in recipes. A recipe is set up so that if you do x, then IF does y automatically for you.
Log in to your IFTTT account. Click My Recipes at the top of the page. Then click Create a Recipe. Click the blue this link.
Select Instagram. If you've never connected your Instagram account to IFTTT, you'll need to authorize it.
Click new photo by you with specific hashtag

.
Type the hashtag you'd like to use. (Don't type the # symbol.) I chose to go with #linkinprofile because I know my followers will know what it means, but you can use any hashtag you want. Click create trigger.
Now click that. Select Pinterest. You'll need to authorize IFTTT to access your Pinterest account, if you haven't done that before. Click add pin to board.
Enter the details you'd like. I created a board called CA on Instagram. Leave the defaults in the rest of the options, and click create action.
Double check your recipe, and click create recipe.  Here's what mine looks like:
Add the link to your Instagram profile:
Next, you need to add the Pinterest board link to your Instagram profile. You can add your link by tapping the settings wheel on your profile.
I recommend using a shortened link (with Bitly, TinyURL, etc.) or using a custom URL. If you already own a custom URL for your blog, you can point a free subdomain to your Instagram board on Pinterest. This is what I chose to do, so my board URL is ig.chalkandapples.com.
Now you're all set up and ready to go!
When you post on Instagram:
Anytime you post on Instagram and want to share a related URL, use your hashtag in the image caption. (It will not work if you use the hashtag in the first comment.) This will automatically pin the image to your Instagram board on Pinterest.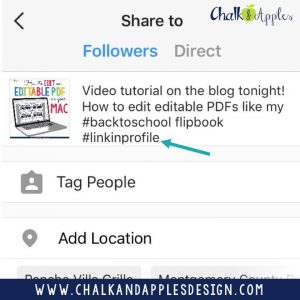 Then, pop into Pinterest (you can do this on the app, so you don't have to be at a computer). Click on your profile to see your most recent pins.
Edit the pin (it's the little pencil icon), and change the Instagram URL to the URL of your blog post, resource, etc.
Easy peasy, and it can all be done right from your phone.